Education activities at FEBS 2023

Interested in teaching, learning and training approaches in molecular life sciences higher education? Read on!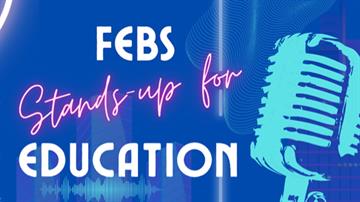 Many Congress participants are involved in teaching and training of molecular life scientists at some level. Make the most of opportunities related to education that have been developed by the FEBS Education Committee for the 47th FEBS Congress:

Education posters and speed talks
Monday 10 July 2023
Browse a range of posters on undergraduate and postgraduate teaching, and talk with presenters at 13:30–14:30. Who will be selected for the education poster prize? There are also three relevant speed talks in Speed Talk Session F just before lunch that day.
FEBS Stands Up for Education: Hot Topics, Music and More
Monday 10 July 2023; 20:00 (till 22:30)
Location: La Guinguette Tours de Loire – Restaurant 'Chez ta mère' (Quai de la Loire, 37000 Tours)

This is an evening of education, music, food, and drinks.
'FEBS Education Committee is proud to present this special event featuring dynamic speakers who will share their insights and perspectives on key issues facing education today. Our audience is invited to share experiences, contribute to this lively discussion and enjoy entertaining performances. From the challenges of training transferable skills to the impact of social media on student well-being, our speakers will tackle some of the most pressing issues in the field.

But that's not all – we'll also provide delicious food and drinks to fuel your brain and your body. Network with fellow educators and education enthusiasts in a relaxed, social setting that encourages open discussion and collaboration.

Whether you're a teacher, student, administrator, or simply interested in the future of education, this event is for you. Come join us as we stand up for education and explore the latest ideas, research, and innovations in the field.'

Menu: Drinks and snacks
Price: Included in the registration fee. Limited to 80 people on a first come, first serve basis. Sign up at the FEBS stand before Monday 10 July at 10:00.


FEBS Education Committee Treasure Hunt
Sunday–Tuesday, 9–11 July 2023; starts at 11:00 and lasts till 17:00 every day
Location: Registration area, FEBS stand, main hall, poster area and coffee break area
'Join the FEBS Education Committee's Epic Treasure Hunt! The Treasure Hunt is calling all adventure-seeking minds at the FEBS 2023 Congress!


Visit one of the treasure hunt posters located at the registration, FEBS stand, main hall, poster area and coffee break area every day, and scan the QR code of the day. This will take you to five brain-stimulating and fun questions about education & training and science, all crafted to ignite your curiosity and sharpen your intellect. Once you join the hunt, reply in the fastest time and wait for the results: the winner of the day will be announced the following morning,11:00, on the treasure hunt posters.

You can participate each day – each day brings new opportunities for triumph! And don't forget, there is a big prize for the participant who successfully answered all the questions everyday: free registration for the FEBS Congress 2024!