Introducing the FEBS Medal Lecturers 2023

Congratulations to Karen Vousden, Eric Westhof and Maya Schuldiner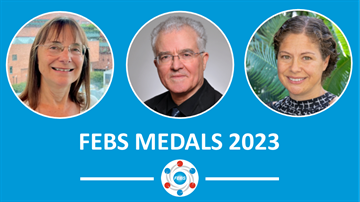 FEBS awards three medals for outstanding achievements in biochemistry and molecular biology or related sciences to distinguished senior scientists: the Sir Hans Krebs medal, the Datta medal, and the Theodor Bücher medal. The 2023 awardees – Karen Vousden (UK), Eric Westhof (FR) and Maya Schuldiner (IL), respectively – will be presented with their medals and deliver plenary lectures at the 47th FEBS Congress.
In the meantime, enjoy insight into their research, motivations and views in short Q&A posts on the FEBS Network via the links below:
Karen Vousden: "I think we never stop learning and this is part of the fun of this career."
Eric Westhof: "... your job becomes your hobby or vice versa when you are a scientist."
Maya Schuldiner: "My biggest highlight is always talking to my students and postdocs."
FEBS Medal Lectures at the 47th FEBS Congress:
FEBS Sir Hans Krebs Lecture (Opening Plenary Lecture): Diet, metabolism and cancer progression, Karen Vousden, Saturday 8 July
FEBS Datta Lecture: RNA modifications and the genetic code, Eric Westhof, Saturday 8 July
FEBS Theodor Bücher Lecture: Systematic Cell Biology – Using high throughput screens to reveal the unknown unknowns, Maya Schuldiner, Tuesday 11 July