The FEBS Press issues for the Congress are out!

You can now find the FEBS Open Bio supplement of Congress abstracts and the FEBS Letters Tours Virtual Issue on the FEBS Press journal webpages.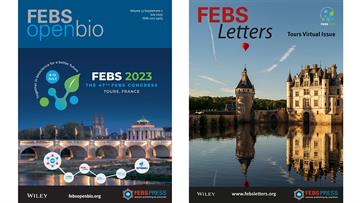 The FEBS Open Bio Supplement for the 47th FEBS Congress is now available on the journal website here. Abstracts are grouped in separate talk and poster PDFs, with the talks arranged by session type and then presented in the order of the Congress programme. This is the 'version of record' and citation guidelines are given at the start of each pdf. NB: The FEBS Open Bio Supplement does not include abstracts submitted during the late-breaking abstract submission phase.
In the Tours Virtual Issue, FEBS Letters presents a collection of outstanding reviews authored by distinguished speakers at the Congress on key interests: autophagy, mitochondrial biology, photosynthesis, epigenetics, chaperones, cell metabolism, and more. The issue also includes two new Graphical Reviews: one on Autophagy by Zvulun Elazar, and one on Rubisco by Manajit Hayer-Hartl. These are a beautiful way to illustrate an entire review on a poster that can be displayed in the lab, and you can pick up a copy at the FEBS stand at the Congress!